Expert Roof Replacement in Greater Saint Louis
Added Value & Structural Integrity. Replacing your roof is a beneficial alternative to spending thousands on endless repairs and it will add value to your home.
The Design EyeQ® Visualization Tool allows you to experiment with different roofing options to create your "dream home look" before you make a purchase.
We offer roof replacement using a variety of materials
Is your roof past warranty, heavily damaged, or repeatedly in need of repairs? If so, you need roof replacement services from Delta Exteriors. We are Missouri's experts for roof replacement and new roof installation, providing quality services in a variety of roofing materials.
No matter what issues your roof is having, our experienced professionals will provide you with a careful evaluation and recommend the best solution for your home. No matter what type of roof you're interested in, we have quality products and always provide expert installation.
If you want to learn more about a roof replacement for your home, call us today at or click below to get started. We offer free estimates on all our work in Ballwin, Chesterfield, Creve Coeur and the nearby areas.
How to tell if you need a roof replacement
Your shingles are broken, torn apart, coming off, buckling, cracked, or missing altogether
Your roof is beginning to leak into your home, creating warped spots in your ceiling
The shingles/tiles on your roof are discolored, missing, or just look worn down
The flashing on your roof is damaged
There are evident signs of wood rot and mold growing, allowing your roof to succumb to deterioration
Your roof is 25 years old or older
The many reasons to replace your roof
Severe damage: This is most common reason for roof replacement, and it's usually caused by a storm or a falling tree. If you have a major roofing problem, we can provide complete replacement and weatherproofing, protecting your home from leaks, wind damage, and other issues.
Repeated repairs: Different roofing materials have different lifespans, but all roofs eventually need replacement. If you frequently have issues like sections of broken shingles or small leaks, and have repeatedly repaired your current roof, it's probably time for replacement. We can evaluate your roof and recommend the best solution for your home.
Expired warranty: Another common reason for roof replacement is an expired warranty. A roof that is past warranty not only is no longer effectively protecting your home, but is putting you at risk for a major expensive if unexpected damage happens. When your roof's warranty is up, don't hesitate to contact us for a replacement.
Aesthetic upgrade: Of course, a roof replacement doesn't always have to be the result of an unfortunate event. Many homeowners choose to replace their roof simply to improve their home's appearance and value. If you're updating your home's exterior, a roof replacement is a great way to further improve curb appeal and property value.
Products
Owens Corning Roofing Options
Owens Corning offers a wide variety of shingle options, all of which meet the highest standards of quality, durability, and appearance. The three main categories are architectural, specialty, and traditional shingles. Architectural shingles are available in many lines, including TruDefinition Duration Shingles and Oakridge Shingles. Similarly, specialty shingles include Devonshire Shingles, Berkshire Collection Shingles, Duration Premium Cool Shingles, and TruDefinition Duration Storm Impact Resistant Shingles.
Benefits of Owens Corning shingles:
A variety of color choices
Energy efficient options
Extensive warranties
Strong and durable
DaVinci Roofscapes is the manufacturer of a wide array of industry-leading, award-winning polymer roofing products. DaVinci roofing tiles are proudly made in the USA and are manufactured to overcome the natural weaknesses of slate and wood shakes, while delivering the most authentic-looking roofing materials available.
Composite Slate & Shake Roofing Tiles
DaVinci composite roofing tiles are designed to mimic the natural beauty of cedar shake roofs and slate roof shingles. Developed with a state-of-the-art polymer chemistry, DaVinci composite roofing tiles are not only beautiful but durable enough to protect and enhance the value of your home.
Why choose DaVinci?
Beauty: DaVinci composite roofing tiles are modeled from genuine slate and hand-split shake. The thick profiles and subtle surface variations help provide a natural appearance.
Performance: DaVinci roofing products are designed to meet the highest performance standards for wind, fire and impact. The tiles resist curling, cracking, fading, mold, algae and fungus and are backed by a lifetime limited warranty.
Color options: DaVinci roofing tiles are available in multiple color blends and solid colors and have superior color fade resistance.
Choose from an industry-leading selection of shingles, widths, colors, and blends.
The DaVinci product lineup includes a solution for every home:
Single-width slate
Multi-width slate
Bellaforte slate
Single-width shake
Multi-width shake
Belleforte shake
Fancy shake
And more!
Ludowici was established in Rome, Itlay in 1888 after becoming famous for producing an innovative & crafty clay roof tile. After migrating to the United States, the Ludowici family business has now grown into a world leader of clay roof tile, terra cotta wall tiles, quarry tiles and decorative terra cotta finials.
Ludowici Spanish Tile Roofing
The Spanish Tile Line contains some of Ludowici's most popular roofing products. Also known as clay roofing, this product has the ability to enhance the design and protection of any home.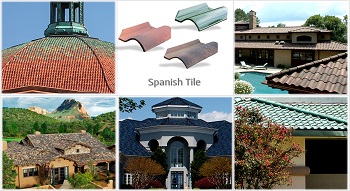 Benefits of Spanish tile roofing by Ludowici:
One-piece design gives the roof the rippled effect that Spanish roofing is known for
Available in a variety of colors to suit your home
Strong and durable protection
Choosing a roofing company you can always count on
You don't just want a company that has all the right certifications and licensing. While those licenses and certifications are important and crucial to the company's existence in the first place, reliability, credibility and the relationship you build with a company is far more important than anything. Here at Delta Exteriors we pride ourselves on providing unmatched customer service and quality, reliable solutions. We want to work WITH you to achieve the results you want, with a price you can afford and be satisfied with.
If you live in Arnold, Saint Louis, Ferguson, Saint Peters, Saint Charles, O Fallon, Granite City or any other area in Greater Saint Louis, call us today to schedule a free on-site inspection and detailed estimate.
Looking for a price? Get a no cost, no obligation free estimate.